PARTNERS
HR Future provides the freshest human capital knowledge on the continent of Africa to those responsible for creating and increasing stakeholder value in their companies through people. The magazine features editorial that helps companies recruit, remunerate, train, educate, develop, manage and retain the most appropriate talent for sustainability and growth into the future. HR Future seeks to provide relevant strategic and practical information on human capital issues in the international and the SA workplaces to help develop a globally competitive workforce on the African continent. The magazine's vision is: "Helping business leaders fulfil their HR commitments." HR matters are therefore approached from a business point of view to ensure the link between HR and the company's bottom line. The majority of our circulation takes place in South Africa, but includes HR practitioners from ten African countries. Readership includes: HR Directors from numerous Blue Chip companies; HR Practitioners; HR and Other Professionals; HR Consultants; Industrial Relations Practitioners; Labour Lawyers; CEOs, MDs and FDs; Line Managers; and Business Owners. HR Future's contributors represent the cream of the crop in HR thought leadership, and are drawn from the highest echelons of the SA business and academic communities with interviews of international role players.
For more information visit : www.hrfuture.net

Africa investor is a quarterly publication read by 20 000 international investors with an interest in Africa's commercial development.
Africa-investor.com is one of Africa's most comprehensive investment information services. It markets, produces and disseminates investment news, research, surveys and location studies. O¬n a daily basis Africa-investor.com provides in excess of 14,000 international investors with timely relevant objective business information from across the continent of Africa. Ai is a content partner to the World Bank and FDI Exchange.
For more information visit : www.africa-investor.com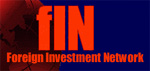 Financial Investment Network is a global leading consulting and publishing company specializing in strategic marketing for Foreign Direct Investment.
FIN's immediate focus is on emerging markets, especially in Africa. FIN also organises and hosts international investment conferences, which are attended by key players and decision-makers from African governments and private business organisations. These conferences and events provide a solid networking opportunity with African business leaders as well as create avenues for expanding your business into Africa 's emerging markets.
For more information visit : www.finmagazine.com

BenTV – BEN Television is the first multi-cultural, urban and cosmopolitan channel operating from United Kingdom (SKY EPG number 184). BEN Television is a free- to-air channel and can be received on the Sky Television network.

BEN Television is the largest provider of wholesome infotainment content, targeting a black and ethnic audience across Europe; its appeal reaches across the cross-cultural audience from a younger generation, through to the more mature, professional and affluent consumer.

BEN Television's satellite footprint covers UK, Europe and parts of North Africa and reaches more than 7 million homes on the Sky satellite network. BEN Television's potential audience is 30 million digital satellite homes.
For more information visit : www.bentelevision.com